A couple days ago, I sat in the back of a mostly-empty Starbucks across the table from one of my best friends, anxiously counting down the seconds to 6:28 PM, Eastern. The newspaper-reading, latte-sipping crowd that chilly December afternoon sat unaware of this all-important countdown occurring just across the room. I contained the bubbling feelings I could only begin to describe as nervousness to a light, repeated tap of my right foot. The day, or perhaps the last three-and-a-half years, had only been building up to this moment.
I will pause the narrative here to be a little more transparent: this is me opening up my application decision from my dream school, and my dream school is MIT. I feel that I can say that now as brutally honest fact; I previously shielded this borderline-obsession I had from conversations beginning with the dreaded question, "so do you know where you want to go to school?" I didn't want to seem like the overconfident dreamer I knew I was. I didn't want to hear what people thought my chances were. All I knew is that I wanted to be at MIT.
The clock turned 3:28: it was Tau time in Massachusetts. There were two thoughts in my mind: I would either be rejoicing or dejected within the next few seconds of clicking that green button. Nothing prepared me for the confusing feelings that followed when I read out loud, "deferred," with a short sigh.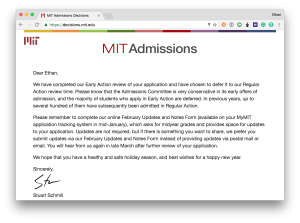 The strict dichotomy of reactions I anticipated completely shattered. Was I supposed to be happy? Statistically, this was nothing short of a soft "no." When I opened the MIT Decisions website that day, I had set myself up for failure in all scenarios but acceptance. Among borderline grades in difficult classes, with a packed schedule that week, this was my escape. I began to hope against hope that I would be freed that Thursday from worries about mid-year marks, final exams, college essays, and just about the million other things I was procrastinating on.
Reading this result frustrated me. I thought out of all schools that MIT would get me, understanding me as a maker and aspiring entrepreneur more than any other school. Unsure of how to react, I just kept refreshing the page and logging back in, just to see the same frustrating reality over and over. But the good people of MIT Admissions do understand this frustration as part of the process. They even posted this video for deferred applicants and held an open forum for us – with no lack of memes to boot. I remembered this post from an admissions officer on their blog:
"I read about your triumphs, I read about your dreams, I read about the tragedies that define you. I read about your passions, your inventions, your obsession with video games, dance, Mozart, Monet. I read about the person close to you who died. I read about your small towns, your big cities, the week you spent abroad that changed your life…"
Ben Jones, "It's More Than A Job"
I am thankful to have my story read in front of these thoughtful people (yes, admissions officers are people too!), and to be considered among the most talented students in the world.
So for everyone who deferred or rejected in this application cycle, perhaps by your own dream school like I was mine, I hope this gives some perspective. Many of the people that have poured out support for me in this time of mixed feelings have told me that everyone finds a school in the end, and your experience all depends on what you make of it.
I want to end with this quote that I learned this summer from a fellow Horizons instructor, and dear friend, Lane Rettig. It speaks to the importance of being a trailblazer – to find meaning and purpose in something that is self-fulfilling, and not just something that everyone else finds fulfilling. It goes like this:
"When everyone around you agrees on what success means, it is all too easy to join them. And if you allow others to define your goals for you, then there is a pretty good chance you will end up holding a prize you did not choose and you do not want."
G. Richard Shell
While these decisions occupy most of our thoughts as first-semester seniors, let's not get caught up in the madness and lose ourselves in the process – the application speaks as to who you are, and not the other way around.  And in a time of mixed feelings over these so-called dream schools, just remember the person you wrote about in that application. Because that person – that bright, multitalented, incredible person – is the most important part of this process.